FURNACE GAS BURNER | HIGH TEMPERATURE GAS BURNER

Hi-Therm manufactured Furnace Gas Burner:
Our furnace gas burner series is used on almost any kind of industrial furnace, ovens, air heaters and kilns. These burners are also called high temperature gas burners since they have a high temperature output. These burners are nozzle mix type burners which provide medium velocity flame with wide air/fuel ratio and turndown flexibility. Furnace gas burner is made of cast iron body with gas connection to give steady, reliable and proven performance. The air tube is made of Stainless steel material for higher temperature application, it is an Inconel material. These burners also have an observation port in the back of gas connection and a provision for pilot gas burner and flame detector.
Furnace gas burner is also operated fully automatically with auto ignition system and Hi-Therm's sequence controller with Ionization Rod/UV Cell as the flame supervisor. They are also available in On/Off models or High/Low models and PID controlled with the incorporation of flame controller. These burners work best with LPG.
Hi-Therm Furnace Gas Burner model FFG-2
High Temperature Gas Burner – Nozzle
Furnace Gas Burner – Air Inlet
Features :
Highly robust construction
Auto-ignition, fuel control and flame sensing systems models available
Suitable for high temperature application
Duo-bloc burners
Highly reliable as furnace burners
Models with facility of pre-purging available
Wide Air/Fuel ratio
Available in On/Off and High/Low models with PID controller incorporated with flame controller
Model Specifications:
| | | | |
| --- | --- | --- | --- |
| Burner Series | Min. heat output (kW) (at 14″ w.c. air pressure) | Max. heat output (kW) (at 28″ w.c air pressure) | Approx flame length at 28″ w.c. air pressure |
| FFG-1 |   10 | 30 | 1′ |
| FFG-2 | 35 | 55 | 1.5′ |
| FFG-3 | 70 | 105 | 2′ |
| FFG-4 | 110 | 160 | 2.5′ |
| FFG-5 | 185 | 265 | 3′ |
| FFG-6 | 300 | 435 | 4′ |
For higher capacity requirement, Contact us to enquire
Dimensions:


Application :
| | | | |
| --- | --- | --- | --- |
| Aluminium melting furnace | Rotary furnace | Glass melting furnace | Heat treatment furnace |
| Annealing furnace | Forging furnace | Ceramic kiln | Air heater |
| Incinerator | Metal melting furnace | Boiler | Hardening furnace |
| Reheat furnace | Muffle furnace | Pit type furnace | Pusher furnace |
Photos of application in various industries :
FURNACE GAS BURNER : LIMITED ORIFICE GAS VALVE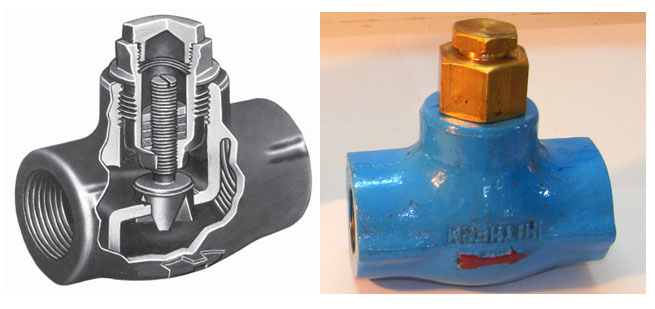 The Limiting Orifice Valve is used to set air/gas ratio on a nozzle-mix furnace gas burner. It has a V-port plug that can be adjusted sensitively and accurately, simply with a screw driver. Turning the screw counter clockwise increases flow. A cap conceals the adjustment and prevents tampering with the setting. If an adjustment is needed, replace top cap on valve body to reduce air or gas leaks. The V-port adjustment is in a removable gas cartridge assembly, simplifying inspection or replacement. Depending on the type of gas the internal metal is selected. Limiting Orifice Valves provide "fine tuning" for air/gas ratio adjustment.
Limiting Orifice Valves are not designed for shutting off gas. Use an approved plug valve or cock .
Install Limiting orifice valve as close as possible to Furnace gas burner. Select correct size of valve to suit the capacity of the gas flow required. For various gas capacities, the Limiting Orifice Valves are designed from ½" to 3″ Size and are in BSP Female thread connection.
A Simple Gas Train is explained as under.
Main Shut Off Ball Valve – Gas Filter – Pressure gauge – Second Stage Pressure Regulator – Pressure Gauge – Solenoid Valve – Limiting Orifice Valve – Burner
Safety features like Gas Pressure Switch, Slam Shut off Valve, Leak Test Detector and others can also be incorporated depending upon the installation and budget.
IGNITION SYSTEM